How to track the number of downloads of files
Whichever service you choose to host your file ( Google Drive, OneDrive, Dropbox, SoundCloud or other ), you can simply set up a counter to count the number of downloads or how many times the file has been accessed: Just process the share link with an URL shortening service, like goo.gl or bit.ly.
Google url shortener: goo.gl
This URL shortening service displays a counter showing the number of clicks (hit counter), and also some statistics on the visitors who have accessed the file:
Countries of the visitor
Type of platform used (Windows computer, etc)
If you have a Google Account, getting started with goo.gl is straightforward:
Open http://goo.gl in a web browser.
Input the address of your file in the field and click "Shorten URL".
Copy the short address that appears on the right-hand side.
Paste this address in the external link pop-up window of SimpleDifferent editor.
If you are usually edit your site from your mobile phone or your tablet, you can find some applications that will make URL shortening even easier. To find these apps, just search goo.gl on the App Store or on Google Play.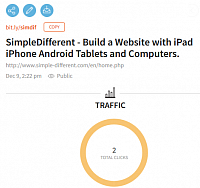 Bitly
Bitly is an alternative free service for URL shortening and hit counter. You can customize the short URL and check if someone has posted the link on a social network.
If you are interested, just sign up at http://www.bitly.com.